Theatre
Selected works (2003 - present)
The Reunification Of The Two Koreas (2018)
A Theatreworks Production, Co-Produced with Centre Dramatique National de Tours, France and supported by the Embassy of France in Singapore.
1 Nov – 11 Nov 2018
72-13, Home Of Theatreworks
Written by Joël Pommerat
Directed by Jacques Vincey
Translation/Dramaturgy by Marc Goldberg
A Finger Players Production
15 – 17 June 2018
Victoria Theatre
Written & directed by Chong Tze Chien.
A Checkpoint Theatre Production
Thu 13 July – Sun 23 July 2017
Drama Centre Black Box, National Library Level 5
Written by Lucas Ho
Directed by Huzir Sulaiman
For their seventh year in reservist training, a group of army mates in an armoured infantry unit return for a war game exercise. In the periods of waiting, their thoughts drift to their relationships, jobs, newborn babies and aging parents as the demands of the outside world intrude in. FRAGO is a poetic examination of Singapore men on the cusp of turning 30. An affectionate ode to the complex pleasures of brotherhood, triumph and disappointment on the battlefield.
Performed in English with some Mandarin
A TheatreWorks Production
6 – 8 October 2016
Victoria Theatre
Conceived and directed by Jerome Bel
With an entirely local cast comprising 20 distinct individuals of different ages, and with different abilities, body types and personalities. In a colourful display of distinct personas, each performer takes the stage to express themselves individually. Each of them then leads the entire company in their chosen genre of dance in a fun filled display of passion and vitality, and allows audiences to witness how the performing arts can empower seemingly ordinary individuals to become a star in their own right.
GALA creates a space where ability is dictated not by one's limitations, but by being the best that one can be. It is a testament to the beauty of the individual.
A commission by The Studios
28 Apr – 1 May 2016
Esplanade Theatre Studio

Directed by Edith Podesta
Imprisonment is as irrevocable as death."
George Bernard Shaw
Dark Room follows the lives of men housed together in a five-by-five-metre cell, 23 hours a day, every day, until their release. This original work, based on true accounts, explores the codes and regulations of society "on the inside". It charts the prison experience from pre-trial to imprisonment, and the reintegration into society as "returning citizens".
If "prison is the punishment that keeps on taking", Dark Room gives voice to the incarcerated by staging their stories and making their experiences visible to a wider audience.
The development of this 2nd iteration titled "Dark Room" is supported by Centre 42's Basement Workshop programme.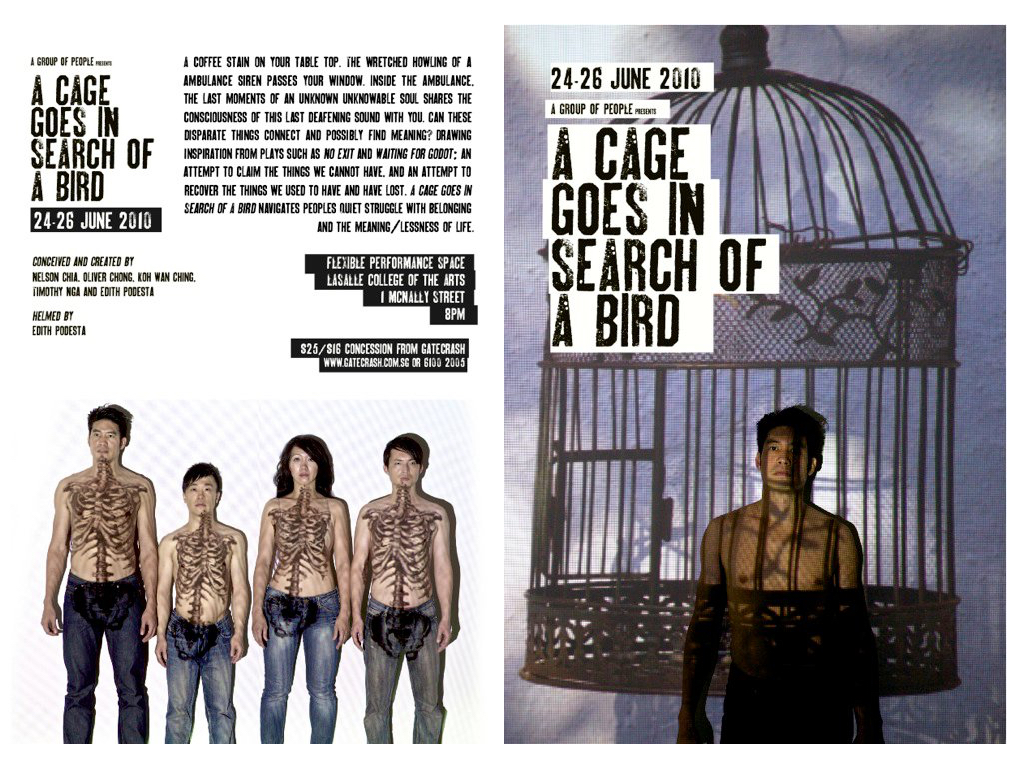 A Cage Goes In Search Of A Bird (2010)
24 – 26 June 2010
Lasalle Flexible Performance Space

Back in 2008, after returning from an acting training program in Saratoga Springs, NY, a group of people; Nelson Chia, Oliver Chong, Koh Wan Ching, Timothy Nga and Edith Podesta, decided to start meeting on a regular basis to train together, with the view to making theatre as an ensemble.
"Four accountants hard at work in the finance division of a publishing firm. They discover an existential manuscript caught among their spreadsheets. Can they connect these disparate things and possibly find meaning? Drawing inspiration from plays such as No Exit and Waiting For Godot: an attempt to claim the things we cannot have, and an attempt to recover the things we used to have and have lost.
A Cage Goes in Search of a Bird navigates people's quiet struggle with belonging and the meaning/lessness of life."
It Won't Be Too Long: The Cemetery (Dusk)
Directed by Kok Heng Luan
For Singapore International Festival Of The Arts
18 & 19 Sept 2015
Dawn: 5.30am at Bukit Brown Cemetery
Dusk: 8pm at SOTA Studio Theatre
1hr 30min for each part, no intermission
Performed in multiple languages with English and Mandarin surtitles.
Do Not Disturb - Late Checkout, Please
Directed by Tan Kheng Hua
19 & 18 December 2008
Esplanade Theatre Studio
THE SWORDFISH, THEN THE CONCUBINE
Directed by Ivan Heng
Written by Kee Thuan Chye
6 - 10 Aug 2008
Drama Centre Theatre, Singapore
Swordfish attack Singapura, terrorising its citizens. A boy saves the kingdom by lining the beach with banana stems. But the Sultan, at his ministers' advice, has the boy executed.
A generation later, the Sultan's successor, his son, breaks the covenant between subject and ruler when he has his concubine publicly executed on trumped-up charges, bringing untold shame to her family. Sure enough, an armada of ships from the Majapahit Empire soon appears on the horizon, and threatens Singapura's supremacy.
HAPPY ENDINGS: ASIAN BOYS VOL. 3
Directed by Ivan Heng
Written by Alfian Sa'at
11 – 29 Jul 2007
Drama Centre Theatre, Singapore
A The Necessary Stage Production In collaboration with Action For Aids.
Directed by Aidli "Alin" Mosbit
Written by Haresh Sharma
Cast: Timothy Nga, Danny Yeo and Peter Sau
11 November 2006
MOX Bar and Café